I am a personal trainer who believes that fitness is fun and rewarding.  I have a home gym that is different than the average gym.  I focus more on what you can do with your body and less with weights and machines.  My workouts are focused on bodyweight exercises that incorporate TRX, Bosu Ball, Stability Ball and some free weights.  My workouts are for those who want better posture, core strength, flexibility, balance and a more strong and lean body.  I want to make working out fun for you so you are proud of what you do and excited to come back for more.
Who I am
Hello! My name is Katrina and I am so excited that you are visiting my webpage! I was born and raised in Montana and have always loved being active.  I grew up skiing and sledding during the long Montana winter months and spent my summers hiking, swimming, camping and doing anything outdoors.  Throughout my life, I have done all sorts of different types of training and classes.  I love doing yoga classes the most but also have experience in Kickboxing, Crossfit, HIIT, Bodypump, circuit training and more.  I always love being outside so going for hikes, running and the occasional mountain biking and climbing are my favorite ways to get cardio in.  Since I earned my personal training certification I have changed so much about how I train.  I have learned so much about form, how important it is to do stretching before and after the workout, muscle imbalances and movement patterns and most importantly listening to your body.  Something that I feel is important is doing the type of exercise that you and your body love to do. Treat your body with respect and push yourself so that you grow, but not to the point of injuring yourself.  More importantly, exercise because you love yourself and you want to make healthy changes, not because you dislike your body and hope to look like someone who has the "perfect body." Everyone is unique in their own way and we all work differently.  So let me create an exercise program that you love for yourself so you can be happy with who you are each and every day!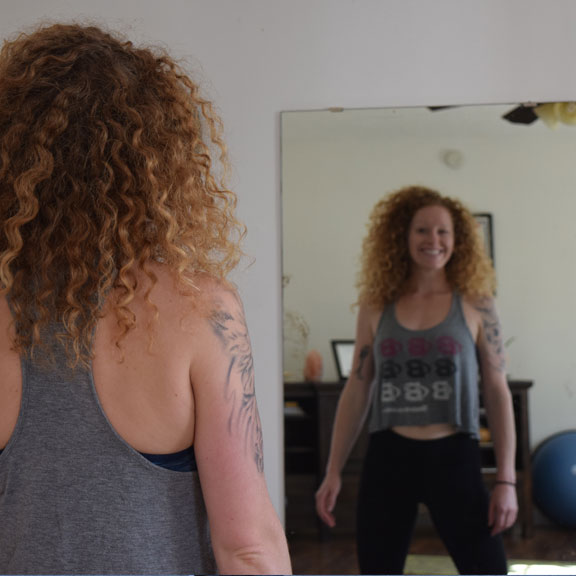 Working out with Katrina at Open Heart Fitness has been such an encouragement. Each session challenges me in a new way and has taught me that building muscle and staying healthy doesn't have to mean killing yourself at the gym. ️

Thanks for all you do, Katrina!
What I love about Katrina's workouts is that they are so intimate and personalized! If you want to focus on a specific area of the body to tone up she will create a workout just for that! I also love the positive feedback during the workout. She is very encouraging and isn't afraid to correct you if you're doing a movement wrong. I always leave feeling better about myself and more motivated! 🙂

Kylie
"Working out with Katrina is truly a blessing. I had zero motivation to start working out because I was afraid of not following through and I was afraid of not keeping up. After 1 session with her, I couldn't believe how quickly I felt at ease and how much more confident I felt about my body and my strength! Now I look forward to each session and I feel AMAZING when I leave one of her sessions. She takes time with you and wants to help you reach your goals. She makes sure your form is proper and always has a smile to greet you in the morning!" I can't say enough about how much I enjoy my personal training sessions and class sessions. She is truly a wonderful trainer."

-Ali Vanherweg